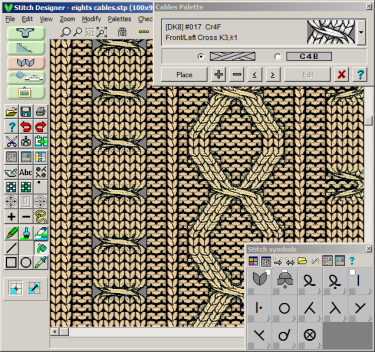 Special Price! Designaknit 8- Hand Knit Version
Regular price
$149.00
Sale price
$100.00
---
Knitting pattern software - DK8 
Designaknit is a powerful computer software for hand and machine knitters. Create your own knitting patterns to print off at home, using your own choice of yarn, style and fit.
Choose from in-built styles such as sweaters, cardigans, skirts and pullovers, then add your measurements and tension swatch details to create your unique design. Perfect for hand spun yarns, duplicating your favourite well-fitting knits, experimenting with exciting stitches or using up stash yarn.
This listing is for the "hand knit" version.
Designaknit is like several computer programmes in one. There are three main levels to this software, all useful and inspiring tools for designing.

The first is the very easy to use "standard garment designer", where you choose who you want to make a garment for (male, female, child) what it is (jumper, cardigan,waistcoat, sleeveless jumper, skirt) and the design details (neckline shape, and sleeve style, like set in sleeves, raglan sleeves, and then round necks or square necks etc) then add in your tension details and pick from a list of standard chest sizes for fit, which you can alter if you want.
You can then choose to edit details like length of the body (for dresses or crop styles) and depth of neckline, or you can copy the measurements of a favourite jumper and make replicas!

This process creates a simple piece of knitwear which you can start knitting straight away with printed line by line instructions or Japanese style schematics with notation.

Then, the software opens up to endless design possibilities with several other functions, called "Original Pattern drafting" and "Stitch Designer" which are like separate extra programmes within the package.
Open up your shape in "Original Pattern Drafting" and play around with the silhouette, creating asymmetric hems or adding shaping for the waist for example. You can also design pattern pieces from scratch. This part of the program allows you to create some totally unique and specific shapes, as well as enabling you to translate diagrams and schematics from magazines and sewing patterns. With this funcition, you can knit any shape you want, in any yarn, and print your own patterns at home. This is slightly more of a learning curve, but once you have mastered the basics the possibilities are endless.

The last part of the program enables you to design your own stitch patterns, like fair isle charts or intarsia, or cable patterns, and intergrate them with your knitting pattern shape.

I've experimented extensively with all three parts and I just love it. I feel it is like the knitter's "photoshop" - it can do so much! 
The software is currently only availible for use on a Window's platform, however Mac users have reported sucess with programms such as "Parralells" to run it on. I've personally bought a pre-loved Windows computer to run mine on.
If you are a machine knitter too, check out the other versions.