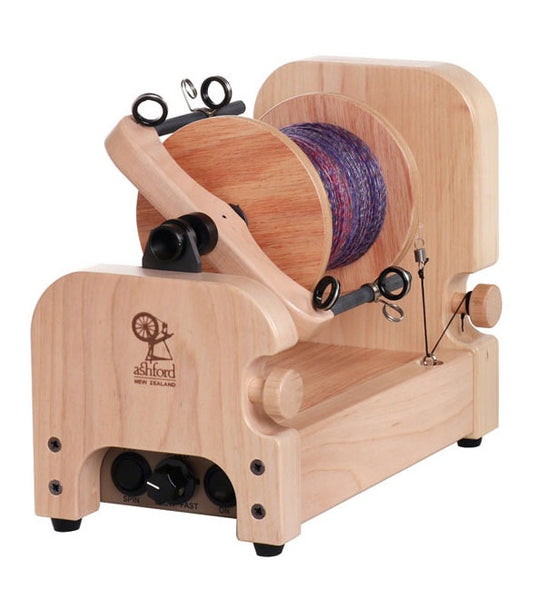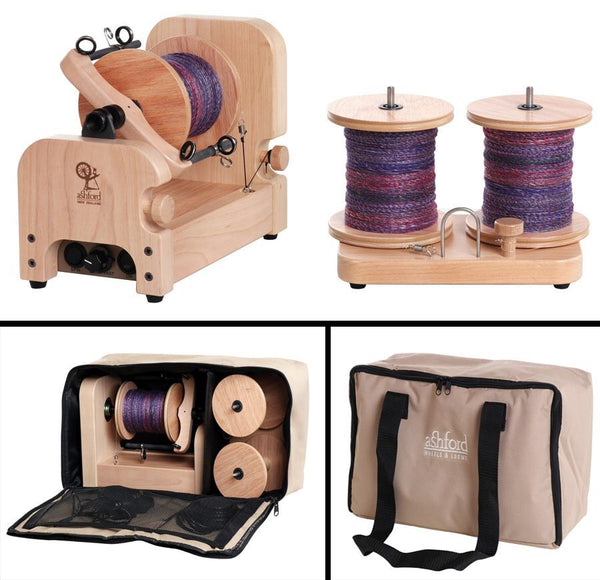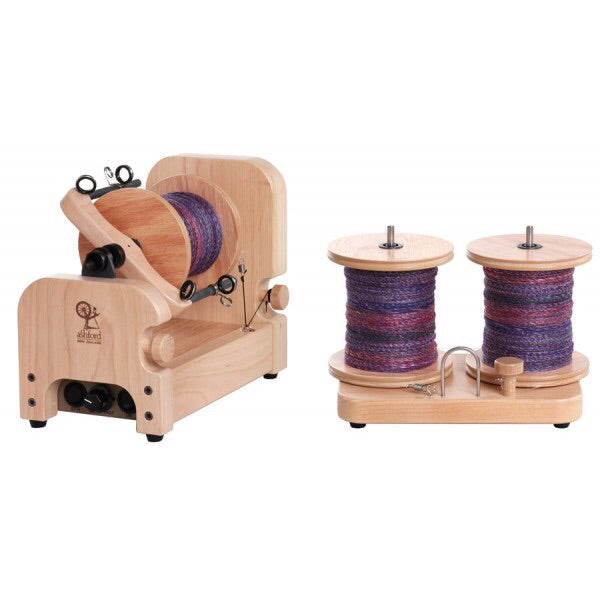 Ashford Electric Spinning Wheel - E Spinner 3
Ashford E spinner
In stock and ready to ship!
Ashfords new e-Spinner 3 is the smallest, lightest and most versatile electronic spinner ever. Take it with you, wherever you go.
Free shipping within mainland UK. Extra shipping charges apply for other countries.

Quick and easy bobbin change with snap-in flyer bearing.

Convenient spinning and plying with a sliding hook flyer, frictionless yarn guides, 15mm (5/8in) orifice and reducer bush.

The e-Spinner 3 has a quiet but powerful 12 volt DC 2.0 amp 70 watt motor with soft start and infinitely variable speed from 0-1800 rpm.

The optional 12 volt car cord enables you to use it in your car, caravan, RV, or boat with a battery pack.

Light weight only 2kg (4.4lbs)

Compact only 26 x 14 x 21.5cm (10¼ x 5½ x 8½ins)
Includes
Padded carry bag with shoulder straps

Three jumbo bobbins, 225gm (8oz) capacity

Tensioned lazy kate

Bottle of oil

On/off foot controller
Ideal for your caravan or boat!
The e-Spinner is quiet, convenient and simple to use. No treadling required! It comes complete with 12 V transformer, jumbo sliding hook flyer, 3 jumbo bobbins and lazy kate with a yarn guide. It has a silent 12-volt DC 1.25amp 70w motor. The quiet direct-drive flyer has an infinitely variable speed from 0-1200 rpm so it is suitable for all skill levels. Hand controls allow you to easily turn the motor off and on, change speed and direction. The bobbins are quick and easy to change.
Small and portable plus the optional 12v car cord enables you to take the e-Spinner with you to guild meetings, on holiday, use it in the car, caravan, RV or boat. The scotch tension system allows all types of yarn to be spun. It comes assembled and lacquered. Three large capacity jumbo bobbins are supplied. CE approved.
My personal take on the Ashford E Spinner 3 -  I LOVE it! This has become my go-to wheel. I find I prefer to use my E spinners (including the new Ashford Super Jumbo E wheel) when i'm at home, as they take up less space, fit nicely on a bookshelf, are simple to set up and put away when guests come, and I can sit with my feet up with the pedal beside me on the sofa (which I opperate with my hand) and spin while watching the tv. :-)
I also find I spin more generally, and more consistently, each time I spin. I've got a lot of spinning done since I have owned this E spinner! So, great for production or serious knit-a-holics. It makes plying a large project easy.
The bag it comes with is delightful. Everything packs away so neatly and in its right place, it feels a joy. Travelling with the wheel is easy, and lightweight. It comes with multiple plug sockets for different countries, so it almost encourages you to have a break somewhere lovely and spin!
For those with fatigue issues (I'm one of you!) this is great for those evenings when treadling feels like too much, but you still want to spin. 
Great for begginner spinners, as you can turn the speed right down and use the foot pedal to learn with a "park and draft" style - I've taught people how to spin in minutes using this wheel. It is of course perfect too for seasoned spinners, as the speed goes all the way up to 1200 rpm, and goes faster than most can keep up with!
In summery, this wheel in super tiny, great for small spaces, for a busy home, for those that like to travel and for those wanting to spin more yarn!
Specifications
Orifice 15mm (⅝in) plus 10mm (½in) Reducer Bush

Motor 12 volt DC 1.25 amp Speed 0-1200 rpm
Bob
Power supply 110 - 220 volts
Included accessories
Lazy kate with yarn guide

3 jumbo bobbins

threading hook

Learn to spin booklet
---