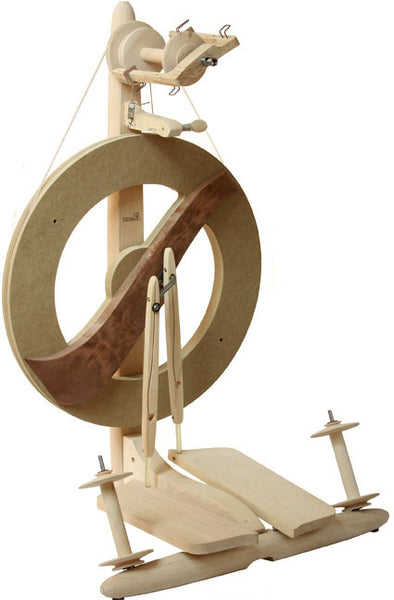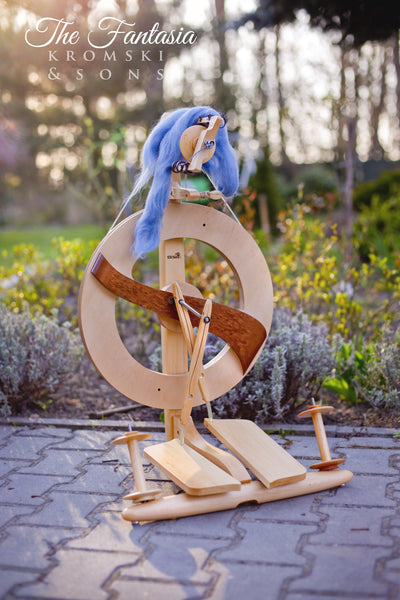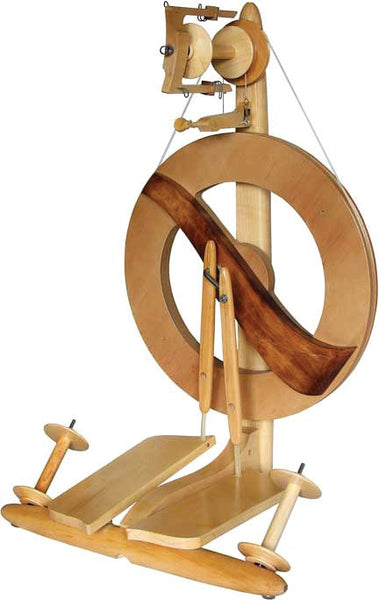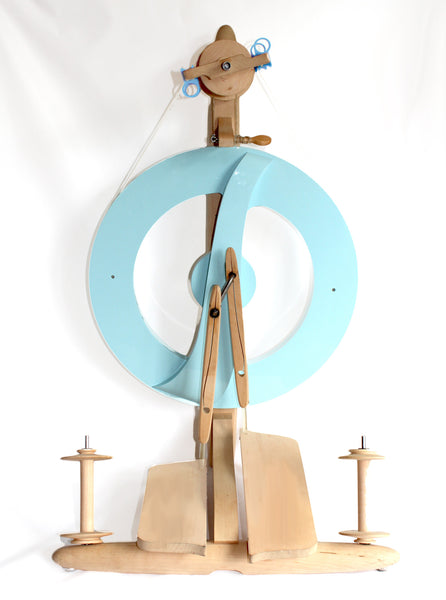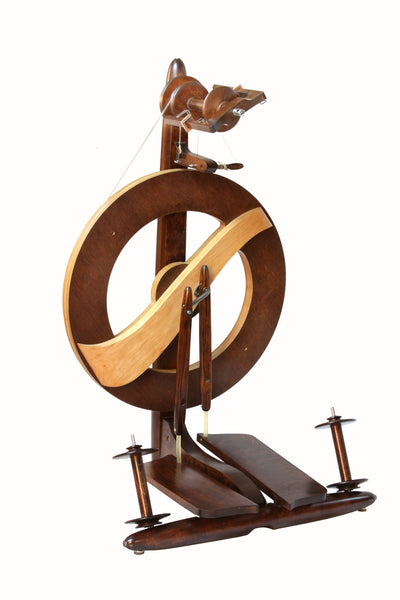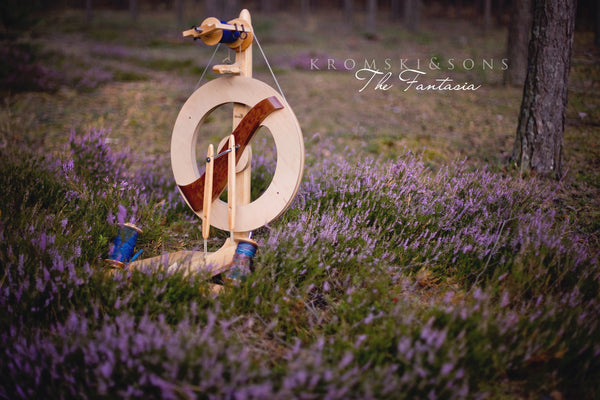 Kromski Fantasia Spinning Wheel
The Kromski Fantasia spinning wheel, with free UK shipping.

The Fantasia is a wonderful spinning wheel for beginners and seasoned spin-stars alike. Full of impressive design features at an affordable price - perfect as your first spinning wheel.
I searched high and low to find a great wheel for beginners or those on a budget. I wanted to find a wheel that was affordable, easy to use, beautiful and with the ability to upgrade the basic set up at a future date - and this was the winner! 
The Kromski Fantasia offers double treadles and scotch tension. It comes with three bobbins and built in Lazy Kate.  The standard bobbins hold an impressive 120g of fiber and are easy to access and change too - simply pull off the front of the flyer, which is held on magnetically. 
The wheel is momentum based, which helps you keep going with less effort. This is a highly innovative idea developed by Kromski and is unique in the market. It means super smooth treading, easy to use with one or two feet and gentle on your legs. Beginners particularly love this feature as gets you spinning faster- you don't have to "think" as much about keeping the wheel going in the same direction as much as other wheels, as the momentum helps you do that before you've had a chance to worry about it. 
It comes set up with two classic ratios, 5, and 8 to 1 (the most popular ratios for spinning yarn) and has the capacity to accept other whorls to take you all the way up to an eye watering 20:1! You can also buy a separate jumbo attachment, with large bobbins and art yarn capability. 
Although it doesn't fold, it's upright design looks neat and tidy and stores away easily against a wall, and fits into the back of a car. 
It is the best value double treadle wheel in the UK market, although it acts and feels like a considerably more expensive wheel. I personally prefer this wheel to all other "regular" wheels for spinning my standard range of yarns.
The Fantasia can come unfinished or with a clear lacquer finish for a little extra. Why not use the opportunity to make your wheel unique with your own colour scheme? The 'Unfinished' wheel is mostly made from European Birch and Alder, with an MDF wheel. The 'Finished' wheel part is complete with Alder wood veneer.
There are lots of great accessories for this wheel. In particular, Kromski developed a  jumbo orifice bypass ring which screws onto the front of the wheel and allows you to spin chunkier yarns without needing to buy a more expensive jumbo flyer. It's such a great invention. 
I always price match, so let me know if you see a better deal.
If you need a little help with some of the jargon, please feel free to get in touch.
Downloadable instructions for set up:
http://kromskina.com/wp-content/uploads/2017/12/Fantasia_Istructions.pdf
Specifications:
Wheel diameter 46 cm
Scotch Tension
Double Treadle
Orifice 10 mm
ratios: 5 and 8 to 1
Additional ratios available: 10:1, 14:1,  18:1,  20:1
Additional Jumbo flyer available
plastic bearings on bobbins
ball bearings on wheel
ball bearings on flyer
sliding hooks on the flyer
included threading hook and on-board Kate
3 bobbins included, full bobbin 120g
made of European alder and birch and MDF
weight 7 kg
Different finishes available
---