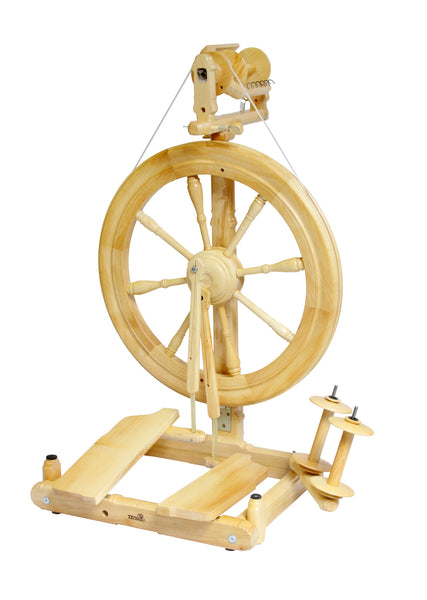 Kromski Sonata Folding Spinning Wheel - Lacquered Clear Finish
The Kromski Sonata folding spinning wheel in clear lacquered finish.
In stock and ready to ship with free shipping withing the UK. 
The Kromski Sonata is well known for it's folding design and beautiful hand crafted construction. In a moment you can go from full sized upright spinning wheel to packed and ready to take with you on a spinning adventure. Take your wheel to the park, meet with friends, take it on holiday or to your local guild.
Perfect for small spaces or for those wanting to travel, the Sonata comes with it's own carry bag, included in the price. The feet and maiden fold up, leaving you just with the wheel part which easily tucks away with space to hold your bobbins and fiber. 
The most popular model amongst Kromski fans, This hand made wheel looks stunning set out in your room with classic, clean design and excellent features, such as the large bobbin capacity, ratio range and accessory options. Option accessories include jumbo attachment for spinning chunky art yarns or plying and fast flyer for lace yarns.
Your Sonata comes with a specially made padded carry bag.  
Most affordable folding wheel and bag set on the market.
If you need a little help with some of the jargon, please feel free to get in touch.
Specifications:
Wheel diameter 50 cm
Folding
Scotch Tension
Double Treadle
Orifice 10 mm
ratios: 6.7, 12.5 and 14:1
Additional ratios available: 5, 7.5, 10:1, 12, 16 and 18:1
Additional Jumbo flyer available
Self lubricating plastic bearings on front maiden
Sealed ball bearings on wheel hub
included threading hook and on-board Kate
3 bobbins included, full bobbin 120g
made of European alder and birch
weight 5 kg
Different finishes available
I always price match, so let me know if you see a better deal.
---