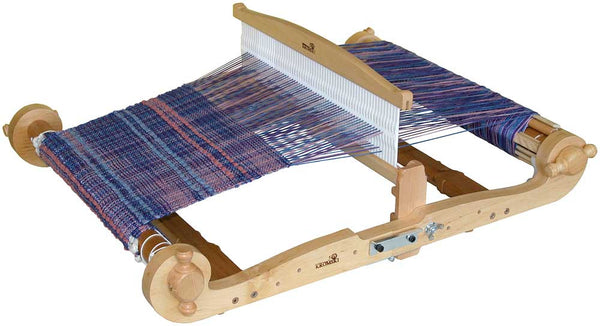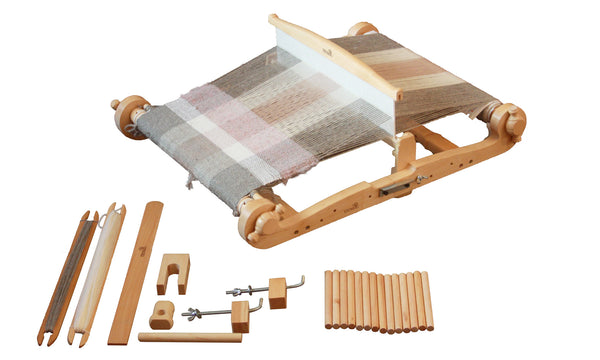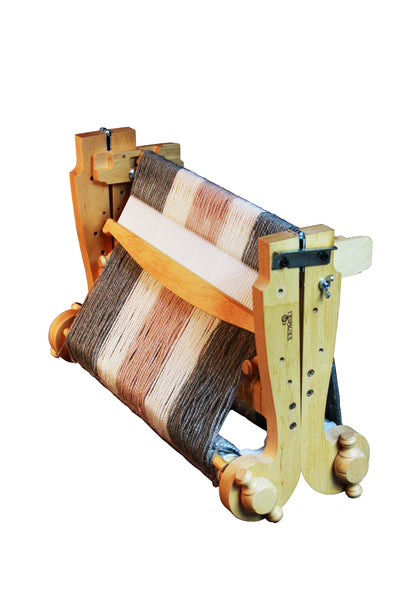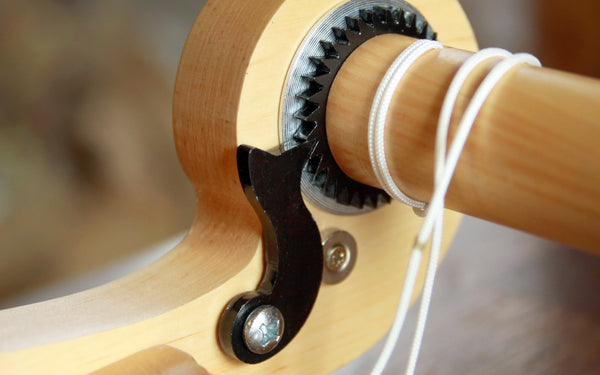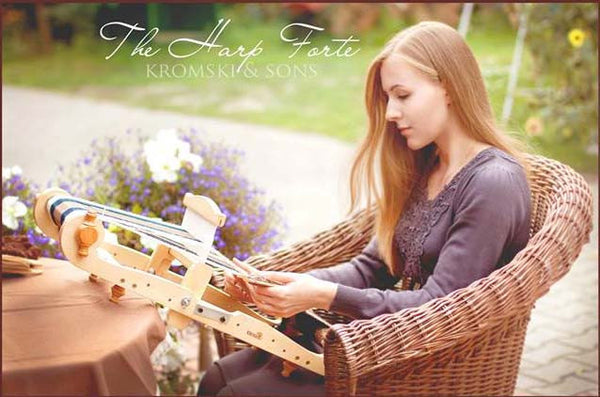 Kromski Harp Rigid Heddle Weaving Loom
The Kromski Harp rigid heddle weaving loom.
In stock and ready to ship. Free Shipping in mainland UK.

The Kromski harp is a beautiful, affordable and versatile folding loom.  Easy to use and set up, start weaving within minutes to create your own handwoven fabrics. Weave your own scarfs and jackets or homewares such as cushions or wallhangings with your handspun or stashed knitting yarn. 
Your loom comes with everything you need to weave - except the yarn -  and is the most complete package on the market. You get your loom with 8 dent rigid heddle, a beautifully hand turned threading hook, shuttles, instructions and more! 
This hand crafted loom has several exciting and useful features that really appealed to me. 
It comes in four different widths, from 8" all the way up to 32", which is great for larger scale projects. 
Perhaps most usefully of all, it folds up quickly so you can take your project with you to meet friends, take on holiday or to store if space is an issue. Easily stores under your bed, or if you want to keep it unfolded, store on your wall to inspire you.
It also comes with two different warping options. You can choose between using a simple clamped warping peg, or the built in warping board.
 This warping board is truly an ingenious idea from Kromski. Flip the loom over, insert the 12 warping pegs into the pre drilled holes and voila! You have your own warping board, which if bought separately, would cost around £70 extra. Use it to create long warps fit for blankets and rugs, or simply to save yourself from walking up and down your living room, which is the typical method for warping with a single clamp peg. 
It also has metal ratchet and pawl mechanisms, which are very long lasting and can be used for high tension projects, such as tapestries and occasional rugs. 
Optional accessories: different sized heddles, stand, tote bag, extra shuttles, and heddle block attachments for double heddle weaving (for double width weaving, patterning and pockets) Also, all Ashford reeds will work with these looms. 
There are also many videos online teaching you how to use this particular loom for free via youtube. 
Specifications:
8", 16", 24" or 32" weaving widths
Folding
Built in warping board
Built in Second Heddle block (add another 8 dent heddle or buy two the same dent to do double weave)
Metal ratchet and pawl tension mechanisms
5 year manufacturer warranty
Hand crafted from clear finished European Alder wood
Detailed turnings and accents, which are reminiscent of an actual harp.
Complete With Accessories Including:
8 dent rigid heddle (optional heddles range from 2.5 to 15 dents per inch)
Threading hook
Two stick shuttles
Pick up stick ( for patterns)
Two warping clamps
One warping peg for direct warping
Set of twelve pegs for creating a warping board
Warping helper
Download a colour PDF of the assembly instructions here: http://www.kromski.com/wp-content/uploads/2017/09/Harp_Forte_Instruction1.pdf
And how to warp the loom here:
http://kromskina.com/wp-content/uploads/2015/08/warp1final.pdf
http://kromskina.com/weaving-your-1st-scarf/
Overall Dimensions

Model
Weaving Width
Actual Loom Width
Actual Loom Depth
8"
8"
13"
25"
16"
16"
21"
25"
24"
24"
29"
25"
32"
32"
36"
25"
---